YuanMei MONUMENTS
Granite-Bronze Markers

A Classic Way to Memorialize your Loved One
A bronze headstone can offer a classic way to honor your departed loved one. With its plaque-like appearance, a bronze headstone will reflect in everyone's mind that your loved one led a life full of accomplishments, or at the very least, was a person of dignity, strength, character, and honor.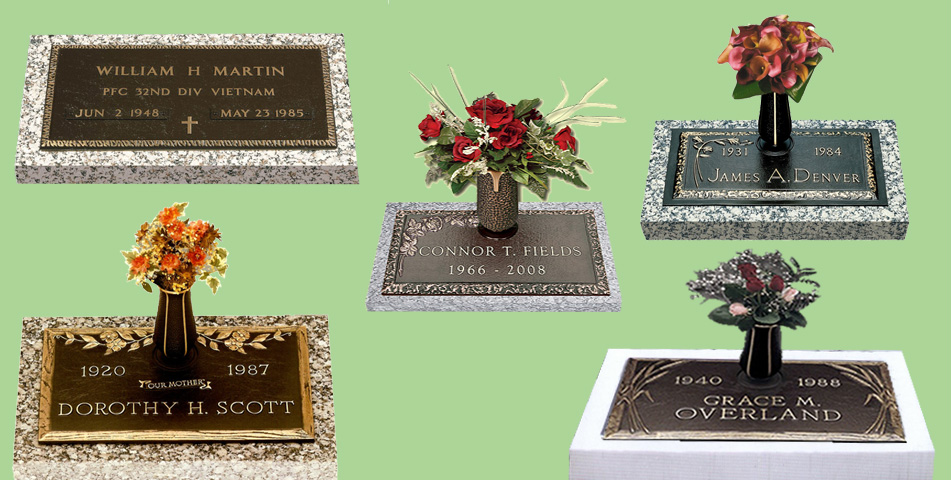 With a bronze vase attached, bronze headstones are sure to make passersby pay even more attention. Onlookers may say that your loved one led an accomplished life, but they may also say that Bronze headstones offer a unique way to capture and preserve the memories of a lifetime your loved one must have had a beauty in his or her heart. With cemeteries and cemeteries full of granite, marble, and slate headstones, a bronze headstone will help a cherished family member's grave to stand out among the crowd. Considering a bronze cemetery headstone for your loved one may be the last favor you ever have the chance to do for him or her.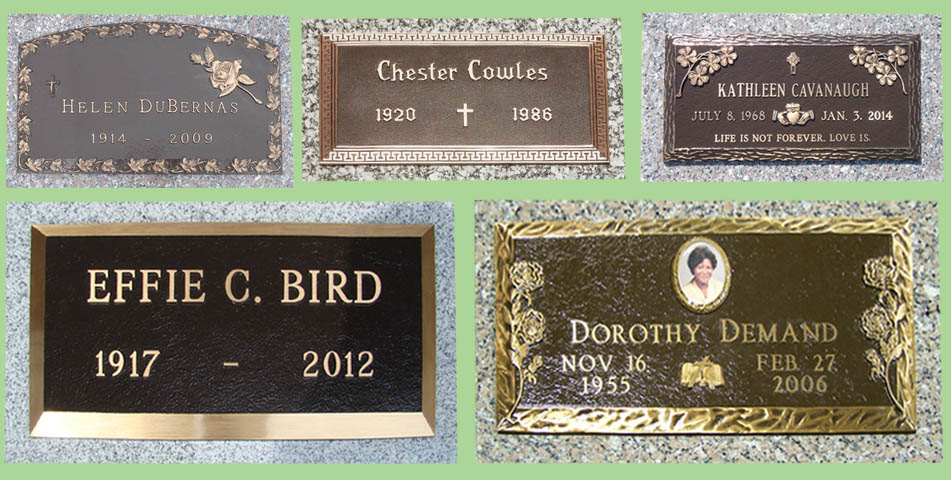 Made with the same technique that craftsmen employed by corporations, the United States Military, and churches have used for years, a bronze headstone instantly attracts the attention of passersby at the cemetery, and will surely cause people to turn around and take another look. That is just one of the timeless features of bronze, and material that has long been associated with dignity and elegance - dating, in North America, to the time of the American Revolutionary War, and even before. However, the historical significance of bronze goes back even further, stemming back as far as the ancient Etruscans, Romans, and Chinese, and having deep significance later in medieval Italy, Germany, and France.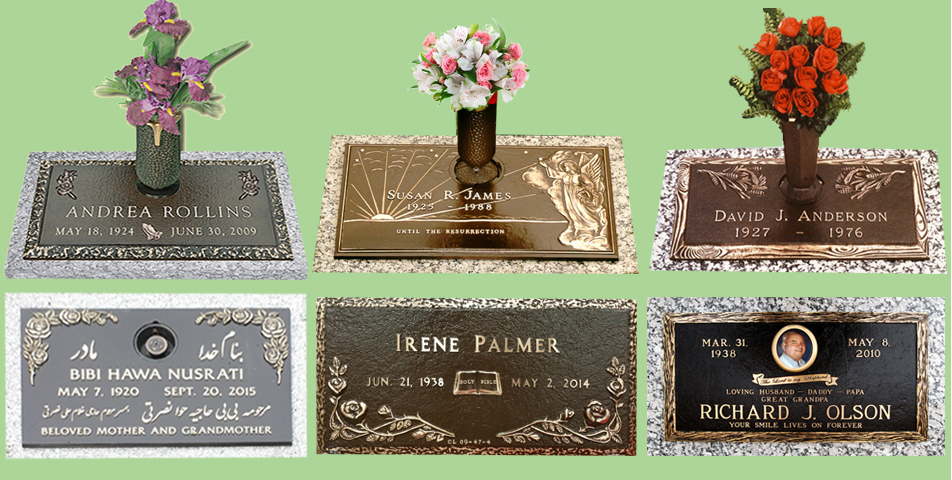 Yet another attractive feature of a bronze headstones have is that it can have not only cast art worthy of a museum piece, but also a picture of your loved one in the center. The linings can also be quite beautiful, and are often more intricately arranged than other headstones. How difficult it must be, for example, for a marble or granite headstone to have a lining like tree branches and flowers, and yet how simple it is to make a bronze headstone with the very same feature. To add to that, a bronze headstone can often be made to give the appearance of wood, which will give the headstone a rustic appeal; only it will be much stronger against the elements.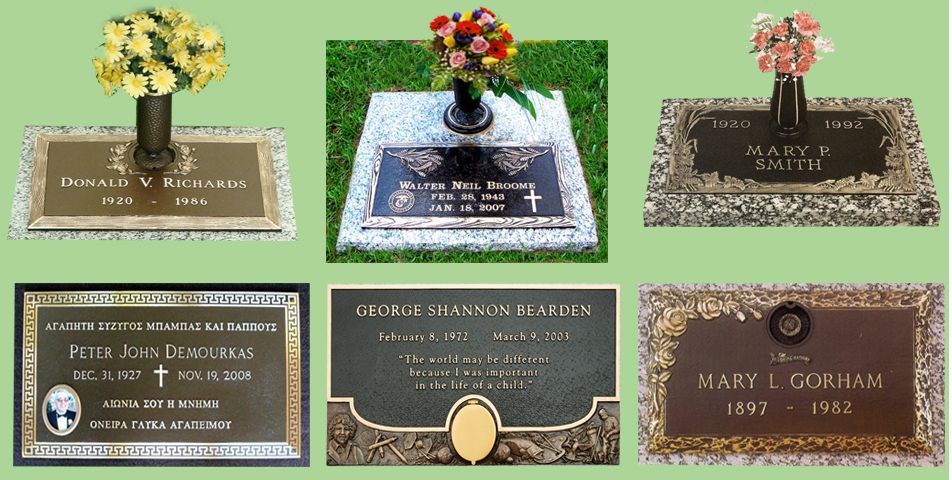 A bronze headstone made for a child can also show a clearer degree of resolution than is possible with other headstones. Some of the most popular designs are of angels, a praying child, and Jesus holding a child. These help all who loved the child in their faith that their loved one will not be alone in eternity, and always has Jesus and the angels to strengthen and guide him or her.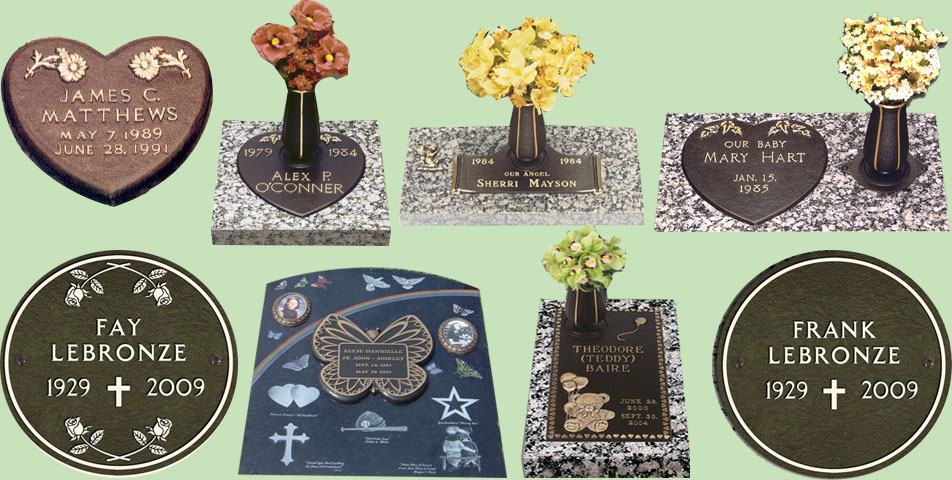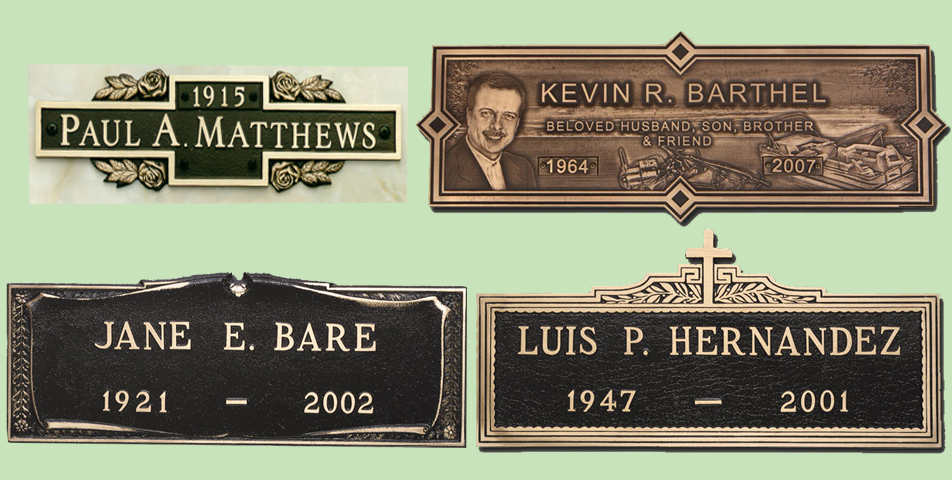 Those who have looked into bronze headstone information know the variety of options availableWhile bronze can feature cast art in the form of designs and emblems, it is the lettering that will often hold the most significance for many families. This is one of the reasons that families invest a great deal of time and efforts in preparing an epitaph for the headstone of a loved one. Writing a headstone epitaph can be a greatly comforting experience, although one would not think it to be. In fact, many are quite hesitant to tackle such a task, but browsing through old photographs, keepsakes, and other memorabilia that the dearly departed left behind can be a wonderful, therapeutic experience that will allow one to remember the good times shared with their loved one. Many individuals even find themselves with a small, albeit tearful, smile, in recounting the many cherished memories left behind, in order to capture the love and joy in the form of an epitaph.





So what is bronze exactly, and how can we be so sure that it will survive under the elements? Bronze is an alloy of copper and tin, sometimes with other elements thrown in as well, such as phosphorous, manganese, aluminum, and silicon. Perfect for a headstone. To manufacture a bronze headstone, bronze is fired at upwards of 1742 degrees, melted, and waxed together, hardened into a solid very difficult to break, and capable of producing something tremendously beautiful. The most reputable dealers will offer only bronze headstones that meet the required content, standard in the memorial industry.

The composition of bronze 85.0% Copper (Cu) , 5.0% Tin (Sn) , 5.0% Zinc (Zn) , 5.0% Lead (Pb) .

One of the most appealing factors as well is that a bronze headstone probably looks a lot more expensive than it really is. While bronze lining on office walls may be one of the hallmarks of luxury, you can get many bronze headstones for far less than you might expect, making a bronze headstone one of the best values in today's world of memorial products.
New bronze relief markers--A seamless blend of casting and photography

we can use one photograph or several to create a simple and elegant plaque or a breathtaking collage that illustrates the saying "a picture is worth a thousand words."
Every picture tells a story, so why not let your plaque be more than just words – use a New bronze relief markers to combine words and pictures for a truly memorable plaque, memorial or historical marker.
Skilled artists combine molten bronze and specialized technology with original photographs, the result is a beautiful, bronze memorial that is as individual as the people and places you're paying tribute to.
Families that have purchased this product appreciate it's personalization, and the ability to create that unique memorial that captures their loved one's legacy.
At YuanMei monuments, we offer a wide selection of bronze memorials that will add both elegance and tradition to your loved one's memorial. Although we only list a few here on our site, we can supply you with information and images at any time on literally hundreds of bronze designs.
Please send me a E-mail(stonesupplier@yahoo.com),Our designers will begin to design for you to meet your satisfaction.

Shipping Information:
Bronze markers generally ships within 15 business days. If engraved portrait is needed please allow 28 business days for shipping. All items ordered require different lead times. Please contact us for details. Actual delivery times can vary by location. We will contact you with the expected arrival dates.
Transportation costs:
All the bronze headstones on our site are priced with shipping to 48 states and basic engraving included in the price. We can also be shipped to Hawaii, Alaska or other America territory, please contact us to confirm the cost of transport.
Refund, Returns and Cancellation Policies:
Returns are accepted on a case by case basis. If the bronze markers has been engraved it can only be returned if it is not as you ordered or if damage occurred during shipping. If you have any questions regarding our policies please contact us prior to ordering.